Home
>
Courses
> ACTHIV 2016 Conference - Sexually Transmitted Infections: Your Doorway to Opportunities!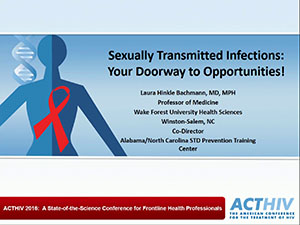 Sorry, this learning module is not available for mobile devices.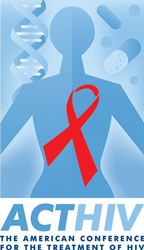 Original Release Date: 4/29/2016
Review Date: 9/15/2016
The enduring material is jointly provided by William Beaumont Hospital, American Academy of CME, Inc., and the American Conference for the Treatment of HIV (ACTHIV).
The 10th Annual American Conference for the Treatment of HIV (ACTHIV) was held April 28-30, 2016 in Dallas, TX. The Conference was supported by funding from the Clinical Education Initiative, New York State Department of Health, AIDS Institute; and from the HIV Medicine Association (HIVMA). The conference and this web archive were supported by educational grants from Bristol-Myers Squibb; Gilead Sciences; Janssen Therapeutics, Division of Janssen Products, LP; Merck & Co.; and ViiV Healthcare.
ONLINE CE CREDIT:

This module is NO LONGER available for CE credit.
FACULTY:
Laura Bachmann, MD, MPH, is a Professor of Medicine at Wake Forest University Health Sciences and Medical Director, Guilford County Department of Health and Human Services, Public Health Division.

Estimated time to complete: 30 minutes
TARGET AUDIENCE
Physicians (both specialists and primary care/family medicine), nurse practitioners, and nurses who are frontline providers of care to persons at risk of or with HIV infection. Physician assistants, pharmacists, case managers and other healthcare professionals may also participate.
Learning Objectives
As a result of participating in this activity, participants should be better able to:

Implement at least three new strategies for diagnosing and managing STIs in HIV-infected individuals.
Apply best practices for counseling HIV-infected individuals diagnosed with a new STI
Faculty Disclosure
Laura Bachmann, MD, MPH, indicated she has the following relevant financial relationships to disclose: Grant/Research Support: Cepheid, Melinta
Privacy Policy
For more information about Beaumont's privacy policy, please access http://www.beaumont.edu/privacy-policy
For more information about Academy privacy policy, please access http://www.academycme.org/privacy.htm
For CME information or credit details, contact: cme@beaumont.edu
For CNE information or credit details, contact: CEservices@academycme.org
Bibliographic Sources:

http:// www.cdc.gov/std http:// www.cdc.gov/std
http://www.stdptc.org http://www.stdptc.org
http://www.nnptc.org http://www.nnptc.org
Sena AC, Wolff M, Martin DH, et al. Predictors of serological cure and Serofast State after treatment in HIV- negative persons with early syphilis. Clin Infect Dis. Dec 2011;53(11):1092-1099.
Workowski KA and Bolan GA. Sexually Transmitted Diseases Treatment Guidelines, 2015. MMWR Recomm Rep 2015;64(No. RR 3):1-138.
Bachmann L, et al. Nucleic acid amplification tests for diagnosis of Neisseria gonorrhoeae oropharyngeal infections. J Clin Micro. 2009;47:902-907.
Marcus JL, et al. Infections missed by urethral-only screening for chlamydia or gonorrhea detection among men who have sex with men. Sex Transm Dis. Oct 2011;38:922-4.
Kissinger P, Adamski A. Trichomoniasis and HIV interactions: a review. Sex Transm Infect. 2013;89(6):426-33.
Miller MR, Nyirjesy P. Refractory Trichomoniasis in HIV-positive and HIV-negative Subjects. Curr Infect Dis Rep 2011;13:595-603.
Schwebke JR, et al. Molecular testing for Trichomonas vaginalis in women: results from a prospective U.S. clinical trial. J Clin Microbiol. Dec 2011:4106-4111.
Laura H. Bachmann, MD, MPH
Associate Professor of Medicine
Wake Forest University Health Sciences, Winston-Salem, NC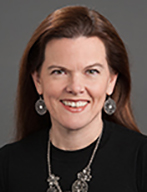 Dr. Bachmann is Associate Professor of Medicine at Wake Forest School of Medicine NC and a senior clinician in HIV Services at the WG "Bill" Hefner Medical Center, NC. Dr. Bachmann trained in Internal Medicine, Infectious Diseases, and Public Health (Epidemiology) at the University of Alabama at Birmingham. Her research interest in the Infectious Diseases area is concentrated in the field of HIV and other STIs. She received the American STD Association (ASTDA) Young Investigator Award and has published extensively regarding clinical and behavioral issues associated with infectious diseases.