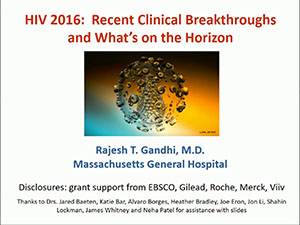 Sorry, this learning module is not available for mobile devices.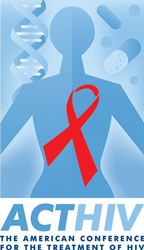 Original Release Date: 4/30/2016
Review Date: 9/15/2016
Rajesh T. Gandhi, MD
Associate Professor of Medicine
Harvard Medical School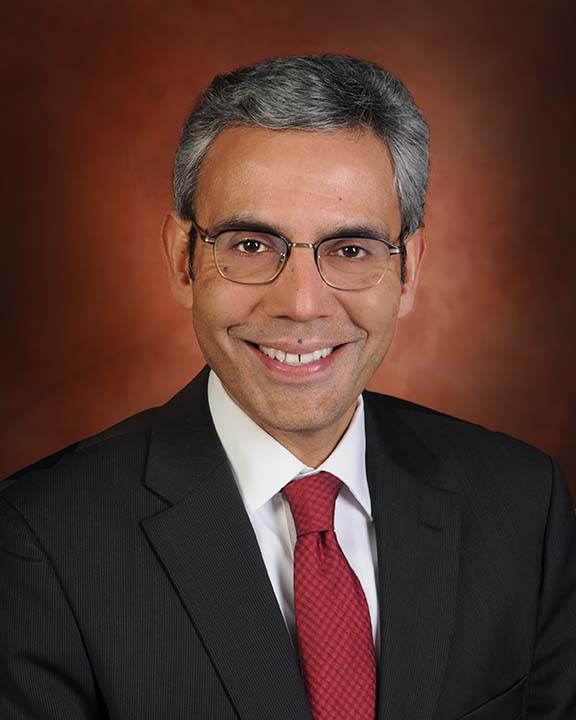 Dr. Gandhi is Associate Professor of Medicine at Harvard Medical School, and the Director of HIV Clinical Services and Education at Massachusetts General Hospital (MGH). Dr. Gandhi is site leader of the MGH AIDS Clinical Research Site in the Harvard/Miriam AIDS Clinical Trials Unit (ACTU) and vice-chair of the AIDS Clinical Trials Group HIV-1 Reservoirs and Eradication Transformative Science Group. He is also the Director of the Harvard University Center for AIDS Research Clinical Core. Dr. Gandhi is the editor of Partners ID Images, an educational infectious diseases website, and organizer of the HIV Online Provider Education (HOPE) program, an internet-based educational conference series for physicians caring for HIV patients in resource-limited settings. His research interests include clinical trials of immune-based therapies for HIV, HIV reservoirs, and HIV/viral hepatitis coinfections.
Continuing Education Credit
(The CE accreditation for this course has expired - this section is only for your information)
The enduring material is jointly provided by William Beaumont Hospital, American Academy of CME, Inc., and the American Conference for the Treatment of HIV (ACTHIV).
The 10th Annual American Conference for the Treatment of HIV (ACTHIV) was held April 28-30, 2016 in Dallas, TX. The Conference was supported by funding from the Clinical Education Initiative, New York State Department of Health, AIDS Institute; and from the HIV Medicine Association (HIVMA). The conference and this web archive were supported by educational grants from Bristol-Myers Squibb; Gilead Sciences; Janssen Therapeutics, Division of Janssen Products, LP; Merck & Co.; and ViiV Healthcare.
Bibliographic Sources:
Cohen MS, et al. Prevention of HIV-1 Infection with Early Antiretroviral Therapy. N Engl J Med 2011;365:493-505.
Skarbinski J, et al. Human Immunodeficiency Virus Transmission at Each Step of the Care Continuum in the United States. JAMA Intern Med. 2015;175(4):588-596.
The INSIGHT START Study Group. Initiation of Antiretroviral Therapy in Early Asymptomatic HIV Infection. N Engl J Med. 2015;373:795-807.
Guidelines for the Use of Antiretroviral Agents in HIV-1-Infected Adults and Adolescents available at: https://aidsinfo.nih.gov/guidelines/html/1/adult-and-adolescent-treatment-guidelines/0
See also posters and abstracts from meetings cited in presentation.