Home
>
Courses
> Characterization of an Epidemic of Acute Hepatitis C Infection in HIV-positive MSM in New York City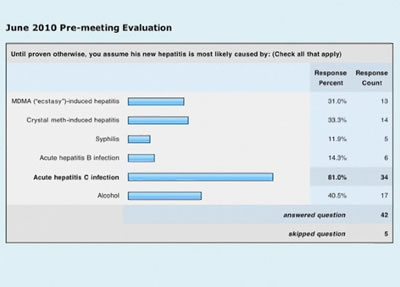 Sorry, this learning module is not available for mobile devices.

COPYRIGHT: Videos of live meetings of PRN in NYC are owned and published by Physicians' Research Network, Inc. Copyright © 2010. All rights reserved.
COLLABORATION STATEMENT: The AIDS Institute is proud of the ongoing collaboration between the Clinical Education Initiative (CEI) and Physicians Research Network (PRN). Founded in 1990, PRN has a well-established reputation for spotlighting the work of the most innovative and influential leaders in the HIV treatment, prevention and research fields through its monthly meetings in New York City. Since 2010, CEI has featured recordings of PRN's monthly events through the CEI website. The combined efforts of both educational institutions have enhanced the continuing educational resources available to New York State clinicians caring for people living with, or at risk for HIV.
Original Release Date: 6/15/2010
Review Date: 5/18/2010
Daniel S. Fierer, MD
Assistant Professor Infectious Disease
Mount Sinai School of Medicine
Learning Objectives / Desired Outcomes
At the completion of this educational activity, participants will:
Demonstrate an understanding of the ongoing epidemic of acute and early HCV in HIV-positive MSM.
Understand the variables that lead to increased risk of HCV infection in HIV-positive MSM.
Diagnose acute and early HCV in HIV-positive MSM.
Understand the virologic, unique histologic and clinical course of acute and early HCV in HIV-positive MSM.

Daniel S. Fierer is an Associate Professor in the Division of Infectious Diseases at the Icahn School of Medicine at Mount Sinai. He and his colleagues at Mount Sinai were the first to describe a syndrome of unexpectedly rapid onset and accumulation of hepatic fibrosis after HCV infection in HIV-infected men, a syndrome that appears to resemble the rapid fibrosis progression after HCV infection in patients with other disease-mediated or iatrogenic immunosuppression. In addition to his ongoing investigation into the epidemiology and mechanism of this liver disease, the main focus of his work has been to determine the mechanisms and fluids responsible for HCV infection among men who have sex with men, and to identify and functionally define the enhanced treatment responsiveness period of early HCV to be able to identify those who will be cured with short-course therapy with interferon-free treatments.