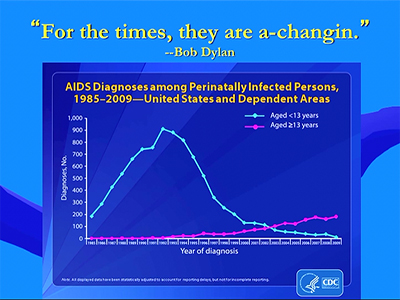 Sorry, this learning module is not available for mobile devices.

COPYRIGHT: Videos of live meetings of PRN in NYC are owned and published by Physicians' Research Network, Inc. Copyright © 2012. All rights reserved.
COLLABORATION STATEMENT: The AIDS Institute is proud of the ongoing collaboration between the Clinical Education Initiative (CEI) and Physicians Research Network (PRN). Founded in 1990, PRN has a well-established reputation for spotlighting the work of the most innovative and influential leaders in the HIV treatment, prevention and research fields through its monthly meetings in New York City. Since 2010, CEI has featured recordings of PRN's monthly events through the CEI website. The combined efforts of both educational institutions have enhanced the continuing educational resources available to New York State clinicians caring for people living with, or at risk for HIV.
Original Release Date: 9/18/2012
Review Date: 8/27/2013
Joseph S. Cervia, MD, MBA, FACP, FAAP
Clinical Professor of Medicine and Pediatrics
Albert Einstein College of Medicine, New York, NY & Hofstra North Shore-LIJ School of Medicine, Hempstead, NY
Learning Objectives / Desired Outcomes
At the completion of this educational activity, participants will:
Know how improved therapeutic outcomes with cART have changed the face of the HIV epidemic, and with it the needs of young patients and families.
Better understand some of the challenges faced by HIV-infected adolescents in transitioning to adult care.
Appreciate the elements of family-centered, youth-friendly, multidisciplinary primary care with integrated HIV subspecialty services, and how such models of care may ease transitional challenges.

A board-certified internist, pediatrician, adult and pediatric infectious diseases and HIV medicine specialist, Dr. Cervia has dedicated much of his career to establishing and leading multi-disciplinary teams in battling HIV and other infectious diseases, and to education and research in prevention, therapeutics, complicating illnesses, and quality of life issues. He has authored over 100 peer-reviewed articles, chapters, and abstracts; mentored countless clinical investigators; lectures widely; and serves as a consultant to numerous local, national, and international organizations on HIV, infectious diseases, and other health care-related issues.