Home
>
Courses
> Post-Viral Syndrome and Myalgic Encephalomyelitis/Chronic Fatigue Syndrome (ME/CFS): What Every Clinician Needs to Know
Post-Viral Syndrome and Myalgic Encephalomyelitis/Chronic Fatigue Syndrome (ME/CFS): What Every Clinician Needs to Know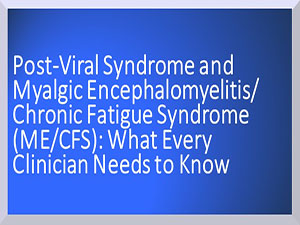 Sorry, this learning module is not available for mobile devices.
Approval Date: 9/30/2020
Expiration Date: 09/30/2023
Published Date: 12/18/2020
Learning Objectives / Desired Outcomes
At the completion of this educational activity, participants will:
Describe ME/CFS as an important clinical and public health problem in the context of viral pandemics and other viral infections.
Explain the need for clinicians with expertise in the diagnosis and management of ME/CFS and resources to support patients and families.
List the symptoms of ME/CFS, diagnostic criteria, the importance of putting ME/CFS on differential diagnosis, and strategies for symptom management, including common co-morbidities and conditions.
Describe the symptom of post-exertional malaise (PEM) and recall that it is characteristic of ME/CFS.
Recognize recent scientific discoveries and potential treatment advancements for ME/CFS.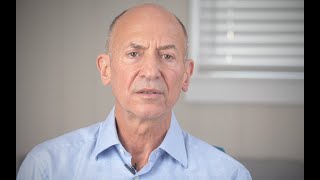 After earning a BFA from New York University School of the Arts in Filmmaking, an MA from Teachers College at Columbia University in Education, and his MD from New York Medical College, Dr. Kaufman completed his Internal Medicine Residency training at St. Vincent's Hospital and Medical Center in New York City.
He began his Internal Medicine practice in Greenwich Village in NYC just as the epidemic that came to be known as HIV/AIDS exploded. With St. Vincent's at the epicenter of this outbreak, he became deeply involved in the care of HIV positive patients and in the research aimed at discovering ways to treat both the opportunistic infections they were dying from and the virus that was causing the destruction of their immune systems. In addition to his private medical practice, he was the Medical Director for one of the largest HIV Centers in the New York State, and the Director for HIV Clinical Research at St. Vincent's.
In 2012, Dr. Kaufman joined the Open Medicine Institute where he was the Medical Director of the Open Medicine Clinic. In 2017, he opened a new clinic, the Center for Complex Diseases, with a focus on patients suffering from ME/CFS, Dysautonomia, Autoimmune Diseases, and Chronic Infectious Diseases including Tick borne diseases, Small Intestine Bacterial Overgrowth Syndromes, and Mast Cell Activation Syndrome. He is a member of the ME/CFS Collaborative Research Center at the Stanford University Genome Technology Center, a member of the US ME/CFS Clinician Coalition, and an active participant in several national clinician networks that focus on ME/CFS, Mast Cell Activation Syndrome, and Autoimmune diseases.
Continuing Education Credit
The target audience is health care professional interested in HIV/HCV/STD/DUH continuing medical education.
Accreditation Statement
CME
The University of Rochester School of Medicine and Dentistry is accredited by the Accreditation Council for Continuing Medical Education to provide continuing medical education for physicians.
The University of Rochester School of Medicine and Dentistry designates this enduring material for a maximum of 1.0 AMA PRA Category 1 Credits™. Physicians should claim only the credit commensurate with the extent of their participation in the activity.
Disclosure Statement
ACCME Standards for Commercial Support of CME require that presentations be free of commercial bias and that any information regarding commercial products/services be based on scientific methods generally accepted by the medical community. When discussing therapeutic options, speakers are requested to use only generic names. If they use a trade name, then those of several companies should be used. If a presentation includes discussion of any unlabeled or investigational use of a commercial product, speakers are required to disclose this to the participants.
No commercial funds have been received to support this educational activity.
Planning Committee and Speakers Disclosures:
A conflict of interest (COI) occurs when an individual has an opportunity to affect educational content about healthcare products or services of a commercial interest with which she/he has a financial relationship and/or personal relationship.
The following planners and presenters of this CNE/CME activity have disclosed no relevant personal or financial relationships with any commercial interests pertaining to this activity: Tara Melfi, MPH, Jessica Silk, MPH, Mark Stratton, MPH, Terri L. Wilder, Oksana Babiy, Monica Barbosu, MD, PhD
Antonio E. Urbina, MD, has had the following relevant financial relationships in the past 12 months with manufacturers of the products or services that may be presented in this CME activity: Scientific Advisory Panel: Gilead, VIIV and Merck.
Presenter: David Kaufman, MD have no relevant personal or financial relationships to declare.
Details:
This online video and post-activity evaluation are 60 minutes in length.
After you complete the video portion of this educational activity and quiz, there will be a post-activity evaluation.
You must pass the quiz with a score of 80% or higher to receive the CE certificate.
If successful, you will be provided instructions to print your CE certificate.
Bibliographic Sources to Allow for Further Study