PrEP Implementation Workshop: Challenges and Solutions in Clinical Practice
Date: October 5, 2016
Time: -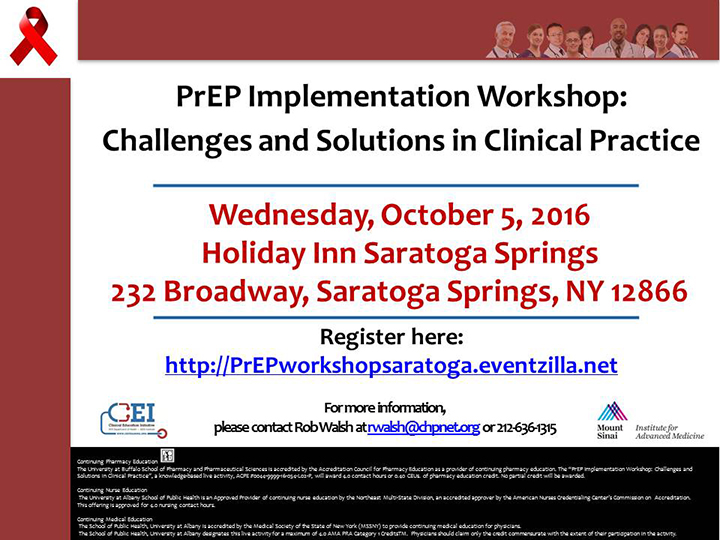 These half-day workshops will focus on enhancing access to pre-exposure prophylaxis (PrEP) for high-risk persons to keep them HIV negative -- the third point of the New York Governor's Plan to End AIDS. Participants attending these workshops must have a basic understanding of the NYS DOH PrEP guidance.
Through didactic presentations and interactive discussion, attendees will explore (1) the role of the patient, provider and organization in PrEP services, (2) policy and procedure protocol within a clinic setting, and (3) common challenges and strategies in implementing PrEP services.
These workshops are primarily intended for New York State medical providers including physicians, physician assistants, nurses, nurse practitioners, dentists, and pharmacists. Limited seating is available to non-clinicians who register as part of a health care team with a medical provider from their organization.
Saratoga Springs: Wednesday, October 5 – Saratoga Springs
Rochester: Wednesday, October 26 – Rochester
Syracuse: Wednesday, November 2 – Syracuse
Long Island: Wednesday, November 7 – Long Island
New York City: Wednesday, January 11 – New York City
Questions? Contact Robert Walsh (
rwalsh@chpnet.org
212-636-1315) or Naomi Harris (
naoharris@chpnet.org
212-523-5954).

Add to Calendar