Home
>
Events
> Registration Now Open! New York State 2017 Clinical Conference on HIV and Hepatitis C: Connecting the Pieces of Comprehensive Care
Registration Now Open! New York State 2017 Clinical Conference on HIV and Hepatitis C: Connecting the Pieces of Comprehensive Care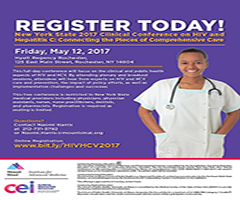 Date: May 12, 2017 - May 12, 2017
Time: 8.00 am-4.00 pm
Location: Hyatt Regency
Venue: Rochester, NY
This full-day conference will focus on the clinical and public health aspects of HIV and HCV. By attending plenary and breakout sessions, attendees will hear from experts on HIV and HCV care and prevention, the impact of policy efforts, as well as implementation challenges and successes.
This free conference is restricted to New York State medical providers including physicians, physician assistants, nurses, nurse practitioners, dentists, and pharmacists. Registration is required as seating is limited.
Register Today! www.bit.ly/HIVHCV2017
Questions? Contact Naomi Harris at 212-731-3792 or Naomi.Harris@mountsinai.org.

Add to Calendar