2017 Clinical Update for the Primary Care Provider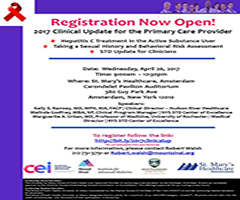 Date: April 26, 2017 - April 26, 2017
Time: 9:00 AM-1:00 PM
Location: Amsterdam, NY

REGISTRATION NOW OPEN!
2017 Clinical Update for the Primary Care Provider
St. Mary's Healthcare, Amsterdam
Carondelet Pavilion Auditorium
380 Guy Park Ave.
Amsterdam, New York 12010
This FREE CME/CNE accredited event will focus on the current epidemiological trends, updates on prevention and care best practices, and NYSDOH guidance on HCV and STI's, as well as therapeutic regimens and monitoring plans.
This event is open to New York State clinical providers, such as physicians, physician assistants, nurses, nurse practitioners, and pharmacists.
Follow the link below to register today!
http://bit.ly/2017clinicalup
(or cut and paste the link into your browser)
Questions? Contact Rob Walsh at Robert.walsh@mountsinai.org or 212-731-3791

Add to Calendar