HIV and Hepatitis C Symposium: Expanding the Role of the Pharmacist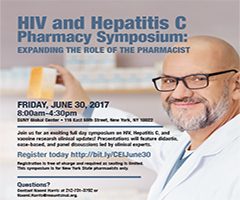 Date: June 30, 2017 - June 30, 2017
Time: 8:00 AM-4:30 PM
Location: 116 East 55th Street, New York, NY 10022
Venue: SUNY Global Center
REGISTRATION NOW OPEN!
HIV and Hepatitis C Symposium: Expanding the Role of the Pharmacist
Friday, June 30
SUNY Global Center
116 East 55th Street, New York, NY 10022
Join the NYSDOH AIDS Institute Clinical Education Initiative (CEI) and the Mount Sinai Institute for Advanced Medicine for an exciting full day symposium on HIV, Hepatitis C, and vaccine research clinical updates! Presentations will feature didactic, case-based, and panel discussions led by clinical experts.
This free conference is restricted to New York State pharmacists. Registration is required as seating is limited.
Register today! www.bit.ly/CEIJune30
Questions? Contact Naomi Harris at 212-731-3792 or Naomi.Harris@mountsinai.org.

Add to Calendar