Join us for three talks on Hepatitis C!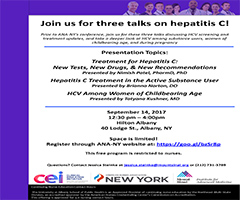 Date: September 14, 2017 - September 14, 2017
Time: 12:30PM-4:00PM
Location: 40 Lodge St., Albany, New York
Venue: Hilton Albany
Prior to the American Nurses Association of NY's conference, join us for three talks discussing HCV screening and treatment updates, and take a deeper look at HCV among substance users, women of childbearing age, and during pregnancy.
Space is limited! Click here to register: https://goo.gl/bzSr8p
No cost to attend but registration is required. Please indicate your participation in 'Tickets'.
**This event is restricted to nurses**
Questions? Contact Jessica Steinke at 212-731-3789 or jessica.steinke@mountsinai.org

Add to Calendar