4th Annual New York State STD Conference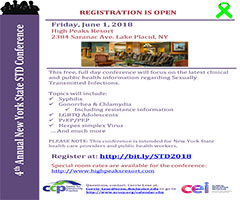 Date: June 1, 2018 - June 1, 2018
Time: -----
Location: 2384 Saranac Avenue, Lake Placid, NY
Venue: High Peaks Resort
REGISTRATION NOW OPEN!
This free, full day conference will focus on the latest clinical and public health information regarding Sexually Transmitted Infections.
Topics will include:
Syphilis
Gonorrhea and Chlamydia (Including resistance information)
LGBTQ in Adolescents
PrEP/PEP
Herpes simplex Virus
....And much more!
Accredited for CME/CNE credits!
PLEASE NOTE: This conference is intended for New York State health care providers and public health workers.
Register at: http://bit.ly/STD2018
Questions? Contact Corrie Lese at: Corrie_Lese@urmc.Rochester.edu

Add to Calendar