From Stigma to Action: Addressing Substance Use, Harm Reduction, and Healthcare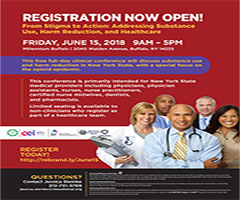 Date: June 15, 2018 - June 15, 2018
Time: 09:00AM-5:00PM
Location: 2040 Walden Avenue, Buffalo, NY 14225
Venue: Millennium Buffalo
Now CME, CNE, and CPE Accredited - Register Today!
This free full-day clinical conference will discuss substance use and harm reduction in New York State, with a special focus on the opioid epidemic.
This conference is primarily intended for New York State medical providers including physicians, physician assistants, nurses, nurse practitioners, certifed nurse midwives, dentists, and pharmacists.
Accredited for CME, CNE, and CPE credits
Registration link: www.rebrand.lyJune15
Questions? Contact Jessica Steinke at jessica.steinke@mountsinai.org or 212-731-3789.

Add to Calendar