HIV in 2018: Keeping the Vision on Women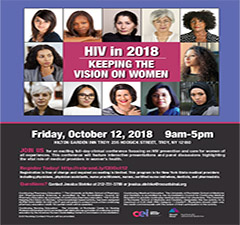 Date: October 12, 2018 - October 12, 2018
Time: 9:00AM-5:00PM
Location: 235 Hoosick Street, Troy NY 12180
Venue: Hilton Garden Inn
CME, CNE, and CPE Accredited - Register Today!
This free full-day clinical conference will focus on HIV prevention and care for women of all experiences, highlighting the vital role medical providers play in women's health.
Registration is free of charge and is restricted to New York State medical providers including physicians, physician assistants, nurses, nurse practitioners, certified nurse midwives, dentists, and pharmacists.
Register today! www.rebrand.ly/CEIOCT12
Questions? Contact Jessica Steinke at 212-731-3789 or jessica.steinke@mountsinai.org.

Add to Calendar