CEI HIV ECHO: Status Neutral HIV Screening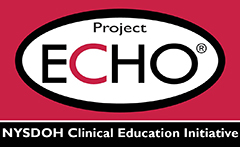 Date: August 1, 2018 - August 1, 2018
Time: 12:00PM-1:00PM
Venue: Webinar
Presenter: Sanjiv Shah, MD
The HIV ECHO Sessions will provide you with a regular opportunity to discuss cases from your practice with experts in HIV/AIDS prevention, diagnosis and treatment.
Each session will also feature a short didactic presentation on a topic of interest to you.
The result? You'll be more educated and more confident in dealing with a wide variety of clinical situations, and will become more connected to other clinicians who provide HIV/AIDS care.
Interested in attending? Please let us know by completing our online questionnaire.

Add to Calendar