Registration Now Open: NYS 2019 Clinical Conference on HIV & HCV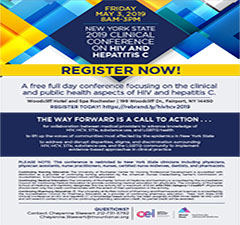 Date: May 3, 2019 - May 3, 2019
Time: 8:00AM-3:00PM
Location: 199 Woodcliff Drive, Fairport, NY 14450
Venue: Woodcliff Hotel & Spa Rochester
Join us for a free full day conference focusing on the clinical and public health aspects of HIV & HCV.
Register today: http://rebrand.ly/hivhcv2019
Registration is free of charge and is primarily intended for New York State medical providers including physicians, physician assistants, nurses, nurse practitioners, certified nurse midwives, dentists, and pharmacists.
This conference is accredited for free CPE, CME, and CNE!
Questions? Contact Cheyenne Stewart at Cheyenne.Stewart@mountsinai.org or 212-731-3792.

Add to Calendar