2018 Ending the Epidemic (ETE) Summit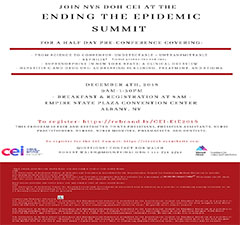 Date: December 4, 2018 - December 5, 2018
Time: 8:00AM-1:30PM
Location: Albany, NY
Venue: Empire State Plaza Convention Center
Join CEI for a half day pre-conference on HIV, Syphilis, Buprenorphine and HCV before attending the NYS Department of Health's Ending the Epidemic Summit! This free conference is limited to New York nurse practitioners, physicians, nurses, pharmacists, midwives and dentists.
Register today! https://rebrand.ly/CEI-EtE2018
Please note, registration for the ETE Summit is separate and can be found at https://ete2018.eventbrite.com
Questions? Contact Rob Walsh at Robert Walsh or 212-731-3791.

Add to Calendar