Application Deadline: Transgender-Affirming Care Intensive Preceptorship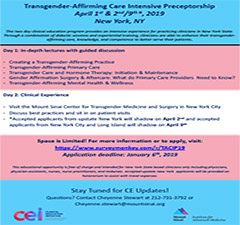 Date: January 6, 2019 - January 6, 2019
Time: 9:00AM-5:00PM
Location: New York, NY

April 1st & 2nd/9th, 2019
This two day clinical education program provides an intensive experience for practicing clinicians in New York State. Through a combination of didactic sessions and experiential training, clinicians are able to enhance their transgender-affirming care, knowledge, and competence to better serve their patients. Accepted applicants from upstate New York will shadow on April 2nd and accepted applicants from New York City and Long Island will shadow on April 9th.
Space is Limited! For more information or to apply, visit: https://www.surveymonkey.com/r/TACIP19
Application deadline: 11:59pm on January 6th, 2019
Questions? Contact Cheyenne Stewart at 212-731-3792 or Cheyenne.Stewart@mountsinai.org.

Add to Calendar