Now Accepting Applications! HCV Intensive Training Preceptorship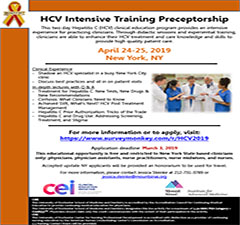 Date: March 3, 2019 - March 3, 2019
Time: -----
Location: New York, NY

This educational opportunity is free of charge and intended for New York State based physicians, physician assistants, nurses, nurse practitioners, and nurse midwives. All clinical experience shadowing will take place at a Mount Sinai affiliated clinic located in Manhattan, NY.
This application process is highly competitive. Accepted upstate New York applicants will be provided an honorarium to be used for travel expenses.
The deadline to apply is Sunday March 3rd.
To apply www.surveymonkey.com/r/HCV2019
Questions? Contact Jessica Steinke at 212-731-3789 or jessica.steinke@mountsinai.org.

Add to Calendar