Attention Capital Region Medical Providers!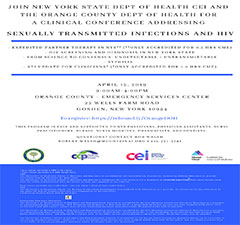 Date: April 12, 2019 - April 12, 2019
Time: 9:00AM-4:00PM
Location: 22 Wells Farm Road Goshen, NY 10924
Venue: Orange County – Emergency Services Center
Join the NYSDOH Clinical Education Initiative (CEI) and the Orange County DOH for a presentation on Sexually Transmitted Infections and HIV
This free clinical conference will discuss STI's and HIV in New York State.
Register today! https://rebrand.ly/OrangeDOH
Registration is free of charge and is intended for New York State medical providers including physicians, physician assistants, nurses, nurse practitioners, certified nurse midwives, dentists, and pharmacists. Limited seating is available to non-clinicians who register as part of a healthcare team.
Topics in this program are accredited for either CME, CNE or CPE.
Questions? Contact Rob Walsh at robert.walsh@mountsinai.org or 212-731-3791.

Add to Calendar