Transgender and Non-Binary Healthcare: Best Practices and Clinical Updates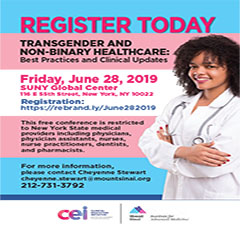 Date: June 28, 2019 - June 28, 2019
Time: 8:00 am-5:15 pm
Location: 116 E 55th St. New York, NY 10022
Venue: SUNY Global Center
Join us for a free full day conference focusing on the clinical and public health aspects of providing transgender-affirming health care. This conference is restricted to New York State medical providers including physicians, physician assistants, nurses, nurse practitioners, dentists and pharmacists.
Stay tuned for registration and more information!
Questions? Contact Cheyenne Stewart at 212-731-3792 or Cheyenne.Stewart@mountsinai.org.

Add to Calendar