SUNY SPECTRUM Conference 2019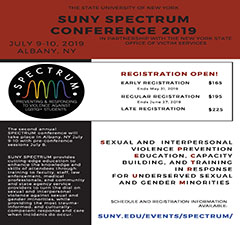 Date: July 9, 2019 - July 9, 2019
Time: -----
Location: Albany, NY
Venue: Albany Capital Center
The nation's largest education conference devoted to preventing and responding to sexual and interpersonal violence against members of the LGBTQI+ community.
REGISTER @: https://www.suny.edu/events/spectrum/
This year's conference will feature sessions for all experience/knowledge levels and distinguished tracks for:
Campus and Student Affairs Professionals (Title IX, Student Conduct, Campus Activities, Residence Life, Student Support Services etc.)
Medical Professionals
Service Providers (Rape Crisis Program/Domestic Violence Shelter Advocates, Counselors/Counseling Center Staff etc.)
Executive Leadership
Law Enforcement
Law/Legal
See you at #SUNYSPECTRUM!

Add to Calendar