Transgender and Non-Binary Healthcare: Best Practices and Clinical Updates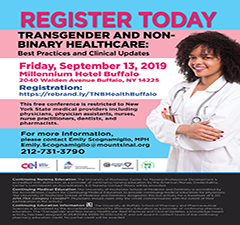 Date: September 13, 2019 - September 13, 2019
Time: 9:00 am-5:15 pm
Location: 2040 Walden Avenue Buffalo, NY 14225
Venue: Millenium Hotel Buffalo
Join us for a free full day conference focusing on the clinical and public health aspects of providing transgender-affirming health care. This conference is restricted to New York State medical providers including physicians, physician assistants, nurses, nurse practitioners, dentists and pharmacists.
Register today! https://rebrand.ly/TNBHealthBuffalo
Questions? Contact: Emily Scognamiglio, MPH at Emily.Scognamiglio@mountsinai.org.

Add to Calendar