Sexual Health Center Lunch and Learn Series: Why Sexual Health?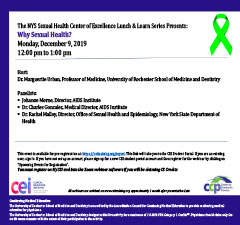 Date: December 9, 2019 - December 9, 2019
Time: 12:00PM-1:00PM
Location: Zoom
Venue: Webinar
This webinar will be a panel discussion led by Dr. Marguerite Urban with leaders from the NYSDOH AIDS Institute.
Host: Marguerite Urban, MD, Professor of Medicine, University of Rochester School of Medicine and Dentistry
Panelists:
Johanne Morne, Director, AIDS Institute
Dr. Charles Gonzalez, Medical Director, AIDS Institute
Dr. Rachel Malloy, Director, Office of Sexual Health and Epidemiology, New York State Department of Health
Free CME!
Register today: click here!
More details coming soon!
Questions? Contact Corrie Lese at 585-274-3042 or corrie_lese@urmc.rochester.edu

Add to Calendar