CEI HIV ECHO: PrEP Updated Guidelines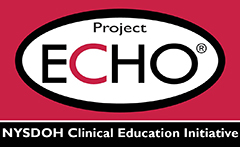 Date: March 4, 2020 - March 4, 2020
Time: 12:00 PM-1:00PM
Venue: Webinar
Speaker(s):
Short Didactic:
Rona Vail, MD
Callen-Lorde Community Health Center
Case Presentation:
John Faragon, PharmD, BCPS, AAHIV-P
Albany Medical Center Hospital
The Clinical Education Initiative (CEI) offers an exciting new "telementoring" program for providers of STD clinical care. Each session will also feature a short didactic presentation on a topic of interest to you. The result? You'll be more educated and more confident in dealing with a wide variety of clinical situations, and will become more connected to other clinicians who provide STD care.
Interested in attending? Please let us know by selecting one of the links below:
If you already have a MyCEI account, please click here

to register.
If you do not have a MyCEI account, please click here

to complete the "Sign up for a new MyCEI account" form. You just need to complete this form once.
Once you have created your account you will be able to register for this course.

Add to Calendar