Smoking Cessation and HIV: What's the Connection?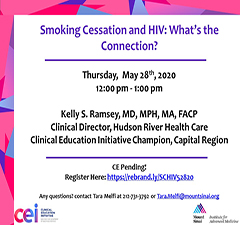 Date: May 28, 2020 - May 28, 2020
Time: 12:00 PM-1:00 PM
Location: Zoom
Venue: Webinar
Speaker(s): Kelly S. Ramsey, MD, MPH, MA, FACP, Clinical Director, Hudson River Health Care, Clinical Education Initiative Champion, Capital Region
Registration: click here!
Questions? Contact Tara Melfi at 212-731-3792 or tara.melfi@mountsinai.org.

Add to Calendar