CEI Drug User Health ECHO: Hepatitis C and Injection Drug Use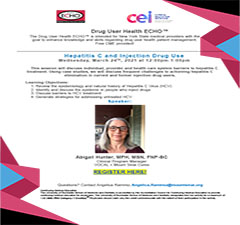 Date: March 24, 2021 - March 24, 2021
Time: 12:00 PM-1:00 PM
Location: Zoom
Venue: Webinar
Speaker: Abigail Hunter, MPH, MSN, FNP-BC, Clinical Program Manager, VOCAL + Mount Sinai Cures
This session will discuss individual, provider and health care system barriers to hepatitis C treatment. Using case studies, we will discuss frequent challenges to achieving hepatitis C elimination in current and former injection drug users.
Learning Objectives:
1. Review the epidemiology and natural history of Hepatitis C Virus (HCV)
2. Identify and discuss the epidemic in people who inject drugs
3. Discuss barriers to HCV treatment
4. Generate strategies for addressing untreated HCV
Free CME Available!
To Register: click here
Questions? Contact Angelica Ramirez at Angelica.ramirez@mountsinai.org

Add to Calendar