PrEP for Adolescents and Young Adults: What Providers Need to Know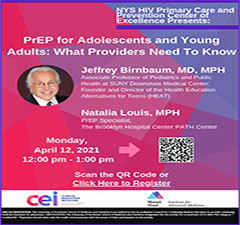 Date: April 12, 2021 - April 12, 2021
Time: 12:00 PM-1:00 PM
Location: Zoom
Venue: Webinar
Speaker(s):
Jeffrey Birnbaum, MD, MPH, Associate Professor of Pediatrics and Public Health at SUNY Downstate Medical Center; Founder and Director of the Health Education Alternatives for Teens (HEAT)
Natalia Louis, MPH, PrEP Specialist, The Brooklyn Hospital Center PATH Center
CME Available!
To register: click here
Questions? Contact Mark Stratton at mark.stratton@mountsinai.org.

Add to Calendar