Registration Open! 8th Annual NYS Sexual Health Conference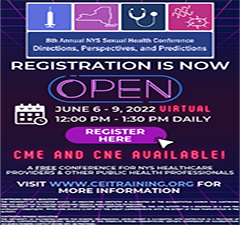 Date: June 6, 2022 - June 9, 2022
Time: 12:00 PM-1:30 PM
Location: Zoom
Venue: Webinar
The theme of this year's virtual conference is "Directions, Perspectives, and Predictions," and features expert speakers from across NYS.
Topics include: sexual health promotion, syphilis and congenital syphilis, STIs and oral sex, telehealth for sexual healthcare, STIs in pregnancy, and new developments in STI testing, treatment, and vaccines.
June 6th - 9th, 2022
12:00 to 1:30 PM Daily
Virtual
CME and CNE available!
To Register: Click here
Questions? Contact: Corrie_Lese@urmc.rochester.edu

Add to Calendar