New Series! Emerging Issues in the Management of STIs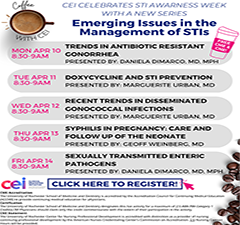 Date: April 10, 2023 - April 14, 2023
Time: 8:30 AM-9:00 AM
Location: Zoom
Venue: Webinar
STI Awareness Week is coming up on April 9-15! Celebrate with CEI by attending our new 5-part virtual series!
Speakers: Marguerite Urban, MD, Daniela DiMarco, MD, MPH, and Geoffrey Weinberg, MD
Monday April 10 - Friday April 14, 2023
8:30 - 9:00 AM Daily
CME and CNE Available!
To Register: Click here!
Questions? Contact jessica_vanscott@urmc.rochester.edu

Add to Calendar