CEI STD ECHO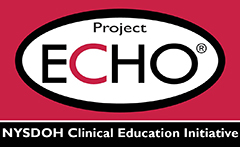 Visit our online questionnaire to join our ECHO contact list and to receive more information.
About CEI ECHO
The Clinical Education Initiative (CEI) offers an exciting new "telementoring" program for NYS providers of STD clinical care. Using the ECHO™ model, CEI STD ECHO Sessions will provide you with a regular opportunity to discuss cases from your practice with experts in STD prevention, diagnosis and treatment. Each session will also feature a short didactic presentation on a topic of interest to you. The result? You'll be more educated and more confident in dealing with a wide variety of clinical situations, and will become more connected to other clinicians who provide STD care.
How does it work? Through monthly teleconferences, ECHO links expert specialist teams at an academic "hub" with clinicians in local practice settings, known as "spokes" in the model. Together, they develop a learning community where the spokes receive mentoring and feedback from specialists. Spokes are encouraged to send in real cases (de-identified) for discussion. Although the ECHO model makes use of video conferencing technology, it is different from telemedicine. Watch this short YouTube video for an overview of the model.
The CEI STD Center of Excellence will staff the ECHO Hub with experts in STD care, including Marguerite Urban, MD and Maureen Scahill, MS NP. The CEI Resource Center will help spokes get started with Zoom, an easy-to-use video conferencing tool.
How to Participate
All NYS providers of STD care (physicians, nurse practitioners, nurses, pharmacists, social workers) are welcome to participate, and teams of clinicians who work together at a single site are encouraged. Space initially will be limited to promote a high level of interaction among participants. There is no cost to participate.
CEI STD ECHO sessions will be scheduled from 12pm to 1pm, on the fourth Wednesday of each month. Please see the schedule below.
Interested? Please let us know by completing our online questionnaire. We're excited to be working with all of you in this new way!
2017 Schedule
January 25th, 2017
CEI STD ECHO: MSM Sexual Health
February 22th, 2017
CEI STD ECHO: Chancroid: Clinical Update
March 22th, 2017
CEI STD ECHO: Gonococcal Resistance
May 24th, 2017
CEI STD ECHO: STD Care Transgender Patients
April 26th, 2017
CEI STD ECHO: Sexual Transmission of Zika Virus
June 28th, 2017
CEI STD ECHO: Non STD Causes of Genital Dermatoses
July 26th, 2017
CEI STD ECHO: Hepatitis C - Epidemiology Update and Screening Implications
August 23th, 2017
CEI STD ECHO: Intimate Partner Violence
September 27th, 2017
CEI STD ECHO: Meningococcal Urethritis
October 25th, 2017
CEI STD ECHO: The Evaluation and Treatment of STIs in the Setting of Child Abuse
November 22th, 2017
CEI STD ECHO: Partner Testing for HIV
December 27th, 2017
CEI STD ECHO: UTI Treatment Recommendations in Era of Drug Resistance