HIV ECHO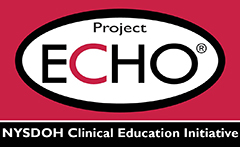 About CEI HIV ECHO
The Clinical Education Initiative (CEI) offers an exciting new "telementoring" program for providers of HIV/AIDS clinical care. Using the ECHO™ model, the HIV ECHO Sessions will provide you with a regular opportunity to discuss cases from your practice with experts in HIV/AIDS prevention, diagnosis and treatment. Each session will also feature a short didactic presentation on a topic of interest to you. The result? You'll be more educated and more confident in dealing with a wide variety of clinical situations, and will become more connected to other clinicians who provide HIV/AIDS care.

How does it work? Through monthly teleconferences, ECHO links expert specialist teams at an academic "hub" with clinicians in local practice settings, known as "spokes" in the model. Together, they develop a learning community where the spokes receive mentoring and feedback from specialists. Spokes are encouraged to send in real cases (de-identified) for discussion. Although the ECHO model makes use of video conferencing technology, it is different from telemedicine.

HIV ECHO will be held the 1st Wednesday of every month from 12:00pm-1:00pm.
Interested? Please let us know by completing one of the links below:
If you already have a MyCEI account, please click here to register.
If you do not have a MyCEI account, please click here to complete the "Sign up for a new MyCEI account" form. You just need to register once.
Once you have created your account you will be able to register for this course. We're excited to be working with all of you in this new way!
For more information contact Robert Walsh at Robert.walsh@mountsinai.org or 212-731-3791.

2018 Schedule
October 7th, 2020
CEI HIV ECHO: What's on the Horizon: HIV Drugs in Development
November 4th, 2020
CEI HIV ECHO: Updated 2020 PEP Guidelines
January 6th, 2021
CEI HIV ECHO: NYS ETE Update
December 9th, 2020
CEI HIV ECHO: Women and PrEP Update
February 3th, 2021
CEI HIV ECHO: PrEP for Transgender Women: A Missed Opportunity?
April 7th, 2021
CEI HIV ECHO: HIV and Updates from CROI
March 3th, 2021
CEI HIV ECHO: Pre-Operative Evaluation for People Living with HIV
May 5th, 2021
CEI HIV ECHO: Cardiovascular Disease and Frailty in the Aging HIV Population
June 2th, 2021
CEI HIV ECHO: Neurocognitive Issues and HIV
July 7th, 2021
CEI HIV ECHO: Management of Diabetes for Adults Living with HIV
August 4th, 2021
CEI HIV ECHO: ART and Injectables Update
September 1th, 2021
CEI HIV ECHO: Social Justice and HIV
October 6th, 2021
CEI HIV ECHO: The Time Is Now: A Geriatric Approach to Caring for Older Adults with HIV
November 3th, 2021
CEI HIV ECHO: Providing HIV Care to Transgender and Gender Expansive Patients
December 1th, 2021
CEI HIV ECHO: HIV Associated Neurocognitive Disorder and Depression in Long Term HIV Survivors
February 2th, 2022
CEI HIV ECHO: Anal Dysplasia and Cancer for People Living with HIV
March 2th, 2022
CEI HIV ECHO: Methamphetamine Use and HIV
April 6th, 2022
CEI HIV ECHO: Updates from CROI 2022
May 4th, 2022
CEI HIV ECHO: PrEP for Older Adults
June 1th, 2022
CEI HIV ECHO: Management of Chronic Pain in Patients Living with HIV
October 5th, 2022
CEI HIV ECHO: Monkeypox: A Clinical Overview and Considerations for PLWHIV