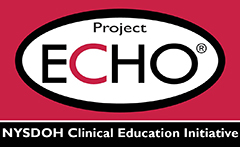 CEI ECHO
The Clinical Education Initiative (CEI) offers an exciting "telementoring" program for NYS clinicians providing HIV/AIDS, STIs and Drug User Health clinical care. Using the ECHO™ model, CEI ECHO sessions will provide you a regular opportunity to discuss cases from your practice with experts in HIV/AIDS, Sexual Health (SH) and Drug User Health (DUH) prevention, diagnosis, and treatment. Each session will also feature a short didactic presentation on a topic of interest.
The result
You will be more educated and more confident in dealing with a wide variety of clinical situations, and will become more connected to other clinicians who provide HIV/AIDS, SH and Drug User Health care.
How does it work?
Through monthly teleconferences, ECHO links expert specialist teams at an academic "hub" with clinicians in local practice settings, known as spokes in the model. Together, they develop a learning community where the spokes receive mentoring and feedback from specialists. Spokes are encouraged to send in real cases (de-identified) for discussion. Although the ECHO model makes use of video conferencing technology (ZOOM), it is different from telemedicine.
How to Participate
All NYS clinicians are welcome to participate. Space is limited to promote a high level of interaction among participants. There is no cost to join.
Interested?
Please let us know by clicking on one of our upcoming ECHO session below or contact:
Mark.Stratton@mountsinai.org for questions about the HIV ECHO
Melinda_Godfrey@urmc.rochester.edu for questions about the Sexual Health ECHO
Cherry.Jones@mountsinai.org for questions about the Drug User Health ECHO
We're excited to be working with you!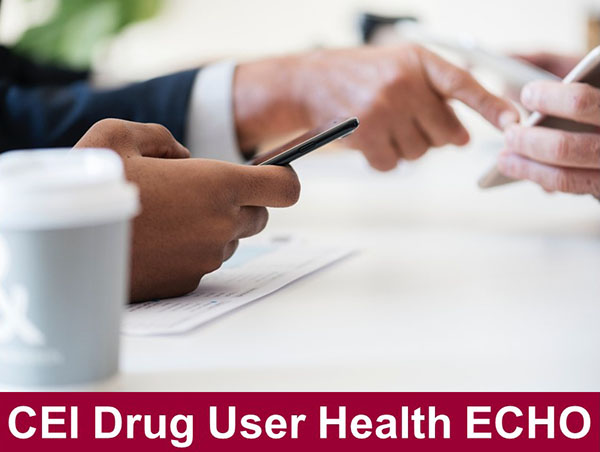 Every 4th Wednesday from 12:00pm - 1:00pm Questions? Contact Cherry.Jones@mountsinai.org

New Closed Drug User Health ECHO™ to Begin June 2021

This tele-mentoring program is intended for NYS medical providers (MD, DO, NP, PA, or DDS) with the goal to learn strategies to provide care to people who use drugs, including in the primary care setting. Participants are expected to (1) Attend each monthly Zoom session on camera for a one-year period and (2) Sign up to present a case on a regular basis as part of their participation in the learning community. Participants are welcome to invite one non-clinical provider member of their multidisciplinary care team to join them in participating, but this is not a requirement.

October 28th, 2020
CEI Drug User Health ECHO: Barefoot Medicine for Drug User Health
November 25th, 2020
CEI Drug User Health ECHO: PrEP for Drug User Health
December 23th, 2020
CEI Drug User Health ECHO: Crystal Meth and Health
January 27th, 2021
CEI Drug User Health ECHO: Low Barrier Buprenorphine Treatment
February 24th, 2021
CEI Drug User Health ECHO: Medication Management of Depression and Anxiety with Patients with Substance Use Disorder
March 24th, 2021
CEI Drug User Health ECHO: Hepatitis C and Injection Drug Use
April 28th, 2021
CEI Drug User Health ECHO: Addressing Unhealthy Alcohol Use in Individuals who Inject Drugs
May 26th, 2021
CANCELLED - CEI Drug User Health ECHO: Advanced Motivational Interviewing Skills for Drug User Health
June 23th, 2021
CEI Drug User Health ECHO: Overview of Harm Reduction
July 28th, 2021
CEI Drug User Health ECHO: Safer Drug Use Practices
August 25th, 2021
CEI Drug User Health ECHO: Homelessness and Health
September 22th, 2021
CEI Drug User Health ECHO: Treating Medical Complications of Injection Drug Use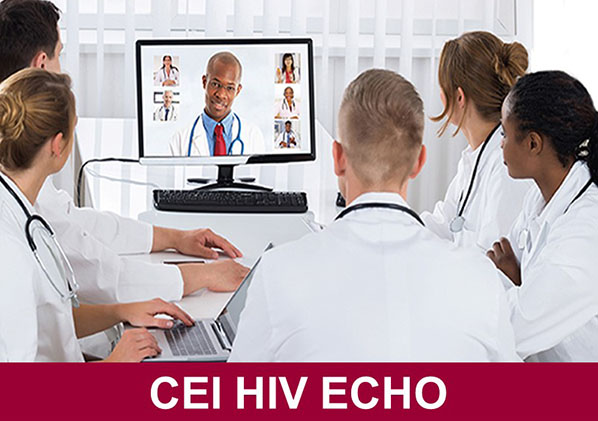 Every 1st Wednesday from 12:00-1:00pm Questions? Contact Mark.Stratton@mountsinai.com

October 7th, 2020
CEI HIV ECHO: What's on the Horizon: HIV Drugs in Development
November 4th, 2020
CEI HIV ECHO: Updated 2020 PEP Guidelines
January 6th, 2021
CEI HIV ECHO: NYS ETE Update
December 9th, 2020
CEI HIV ECHO: Women and PrEP Update
February 3th, 2021
CEI HIV ECHO: PrEP for Transgender Women: A Missed Opportunity?
April 7th, 2021
CEI HIV ECHO: HIV and Updates from CROI
March 3th, 2021
CEI HIV ECHO: Pre-Operative Evaluation for People Living with HIV
May 5th, 2021
CEI HIV ECHO: Cardiovascular Disease and Frailty in the Aging HIV Population
June 2th, 2021
CEI HIV ECHO: Neurocognitive Issues and HIV
July 7th, 2021
CEI HIV ECHO: Management of Diabetes for Adults Living with HIV
August 4th, 2021
CEI HIV ECHO: ART and Injectables Update
September 1th, 2021
CEI HIV ECHO: Social Justice and HIV
October 6th, 2021
CEI HIV ECHO: The Time Is Now: A Geriatric Approach to Caring for Older Adults with HIV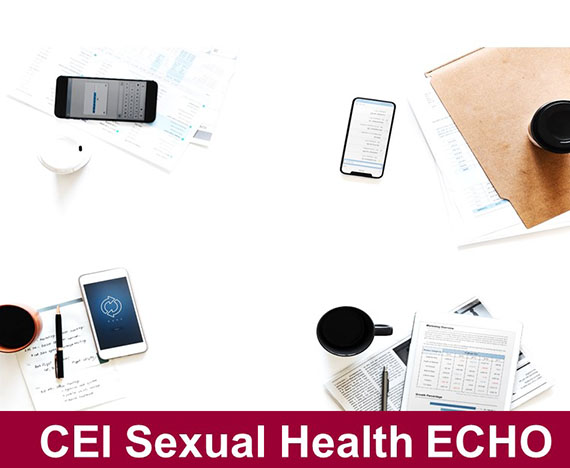 Every 2nd Wednesday from 12:00-1:00pm
Questions? Contact Melinda_Godfrey@URMC.Rochester.edu

October 14th, 2020
CEI SH ECHO: COVID-19, PPE and the Sexual Health Clinic
November 11th, 2020
CEI SH ECHO: STI Express Visits
December 9th, 2020
CEI SH ECHO: A Review of the Evidence – Doxycycline for the Prevention of Bacterial STIs
January 13th, 2021
CEI SH ECHO: Sexual Medicine and Sex Therapy: what is pleasure's role in STI prevention and treatment?
February 10th, 2021
CEI SH ECHO: Update to CDC Guidelines for the Treatment of Gonorrhea
March 10th, 2021
CEI SH ECHO: Human Trafficking – Insights for Clinicians
April 14th, 2021
CEI SH ECHO: Management of Bacterial Vaginosis
May 12th, 2021
CEI SH ECHO: EPT in NYS - New Guidance
June 9th, 2021
CEI SH ECHO: Caring for Sex Workers
July 14th, 2021
CEI SH ECHO: PrEP, Sexual Health, and Recently Incarcerated Woman
August 11th, 2021
CEI SH ECHO: Testicular Masses
September 13th, 2021
CEI SH ECHO: Ocular Manifestations of Systemic Sexually Transmitted Disease