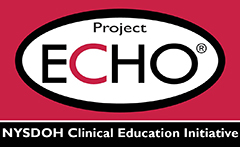 CEI ECHO
The Clinical Education Initiative (CEI) offers an exciting new "telementoring" program for NYS providers of HIV/AIDS and STD clinical care. Using the ECHO™ model, CEI ECHO Sessions will provide you with a regular opportunity to discuss cases from your practice with experts in HIV/AIDS and STD prevention, diagnosis and treatment. Each session will also feature a short didactic presentation on a topic of interest to you.
The result
You will be more educated and more confident in dealing with a wide variety of clinical situations, and will become more connected to other clinicians who provide STD and HIV/AIDS care.
How does it work?
Through monthly teleconferences, ECHO links expert specialist teams at an academic "hub" with clinicians in local practice settings, known as spokes in the model. Together, they develop a learning community where the spokes receive mentoring and feedback from specialists. Spokes are encouraged to send in real cases (de-identified) for discussion. Although the ECHO model makes use of video conferencing technology, it is different from telemedicine.
How to Participate
All NYS providers of STD and HIV care are welcome to participate, and teams of clinicans who work together at a single site are encouraged. Space initially will be limited to promote a high level of interaction among participants. There is no cost to participate.
Interested?
Interested? Please let us know by clicking on one of our upcoming ECHO session below.
We're excited to be working with all of you in this new way!



1st Wednesday from 12:00-1:00pm Questions? Contact Tara.melfi@mountsinai.com

February 5th, 2020
CEI HIV ECHO February: Bone Health in the Aging HIV Population
December 4th, 2019
CEI HIV ECHO December: Chem Sex
November 6th, 2019
CEI HIV ECHO November: Injectable HIV Treatment Update
October 2th, 2019
CEI HIV ECHO October: Updates from the 10th Annual IAS Conference
September 4th, 2019
CEI HIV ECHO September: Dealing with Discomfort: Addressing Anal Health in Primary Care
August 7th, 2019
CEI HIV ECHO August: HIV Vaccines: Progress, Promise, and What's Next
July 3th, 2019
CEI HIV ECHO July: no session
June 5th, 2019
CEI HIV ECHO: PrEP for Women: Prevention Opportunities in Clinical Practice
May 1th, 2019
CEI HIV ECHO: Best Practices for Implementing Buprenorphine
March 6th, 2019
CEI HIV ECHO: Aging in HIV
February 6th, 2019
CEI HIV ECHO: Transgender Women & HIV
January 2th, 2019
CEI HIV ECHO: Creating a Culture for Quality Improvements-Where Do I Start? Pitfalls and Challenges to Your Improvement Efforts'
December 5th, 2018
CEI HIV ECHO: Trauma-Informed Best Practices
November 7th, 2018
CEI HIV ECHO: Interpersonal Violence Screening
October 3th, 2018
CEI HIV ECHO: Antiretroviral Therapy Update
September 5th, 2018
CEI HIV ECHO: Undetectable = Untransmittable/Jumpstart
August 1th, 2018
CEI HIV ECHO: Status Neutral HIV Screening
June 6th, 2018
CEI HIV ECHO: Acute HIV Infection
May 2th, 2018
CEI HIV ECHO: Hepatitis C and HIV Coinfection
April 4th, 2018
CEI HIV ECHO: That Other Chlamydia: Lymphogranuloma Venereum (LGV)
March 7th, 2018
CEI HIV ECHO: PrEP and Women
February 7th, 2018
CEI HIV ECHO: HIV Drug Resistance Interpreting Assays
January 3th, 2018
CEI HIV ECHO: HIV Opiate/Pain Management Strategies

2nd Wednesday from 12:00-1:00pm
Questions? Contact Jahron Marriott@urmc.rochester.edu

November 13th, 2019
CEI STD ECHO: What is my risk of cancer? Gender affirming hormones, genetic testing and cancer risk assessment in a trans female adolescent
October 9th, 2019
CEI STD ECHO: PrEP - Beyond daily TDF-FTC
September 11th, 2019
CEI STD ECHO: Safe Injections
August 14th, 2019
CEI STD ECHO: Extra-genital Testing for Women
July 10th, 2019
CEI STD ECHO: Evaluation and de-labeling of penicillin allergy
June 26th, 2019
CEI STD ECHO: Trichomonas Infection in Men
May 22th, 2019
CEI STD ECHO: PrEP and PEP for Adolescents
March 27th, 2019
CEI STD ECHO: HSV Infections of the Eye
February 27th, 2019
CEI STD ECHO: Human Trafficking 101
January 23th, 2019
CEI STD ECHO: Disseminated Gonococcal Infections
November 28th, 2018
CEI STD ECHO: Long-Acting Reversible Contraception and Other Contraceptive Methods
October 24th, 2018
CEI STD ECHO: Undetectable = Untransmittable
September 26th, 2018
CEI STD ECHO: Female Genital Dermatoses
August 22th, 2018
CEI STD ECHO: Laboratory Diagnosis of Mycoplasma Genitalium
July 25th, 2018
CEI STD ECHO: Post Exposure Prophylaxis (PEP) at the Pharmacy in NYS
June 27th, 2018
CEI STD ECHO: Hepatitis A Updates
May 23th, 2018
CEI STD ECHO: Extragenital Testing for Gonococcal and Chlamydial Infections: Self Obtained Swabs
April 25th, 2018
CEI STD ECHO: HSV Infections and Pregnancy
March 28th, 2018
CEI STD ECHO: Gonorrhea, Chlamydia and the Neonate
February 28th, 2018
CEI STD ECHO: Gonococcal and Chlamydial Infections of the Eye
January 24th, 2018
CEI STD ECHO: Trans Health: Beyond the Basics