Learn how CEI can help you.
Explore CEI clinical resources below: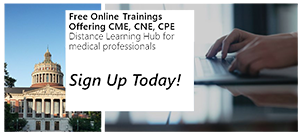 Request Onsite Training
The New York State Department of Health Clinical Education Initiative (CEI) provides FREE onsite training for health care professionals throughout the state. These onsite trainings are designed for agencies directly engaged in patient care. To request a training for your clinic/department/office: click here.
Clinical Education /Trainings
CEI Line 1.866.637.2342
A toll-free number for clinicians in NYS to discuss HIV, PEP, PrEP, HCV, DUH and STI management with a specialist.
Clinic Snips
CEI offers short videos to raise awareness of important topics for clinicians who care for patients with or at risk for HIV, HCV, STIs and drug use. To watch the short Clinical Snips please follow the links below:
Title: HCV Testing Law

Presenter: Ponni V. Perumalswami, MD

View time: 8minutes

Title: Hepatitis C and Women of Child Bearing Age Presenter: Naomi G. Harris, MPH View time: 2minutes